We had a wonderful weekend, well besides me getting in a car accident. I am ok and the boys were not with me thank goodness. This guy just pulled right out into on coming traffic (me) and got the WHOLE side of my vehicle. So I had to get a rental, deal with insurance, all that good stuff.
Anyhow back to the good part... Chuck had the weekend off so we all went and got a ton of new decorations and decorated the outside of the house, we got our tree and the boys decorated it here they are doing that: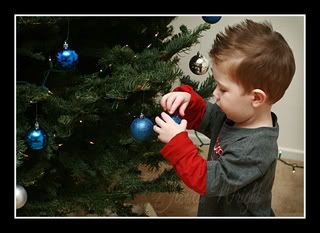 They also got to see Santa at wal-mart I guess it was some sort of promotion. They loved it. I think that Santa was shocked when Nevin being 2 and still pretty small walked right up to him pulled himself up into his lap and said "I want a camera" wonder where he gets that from? I am sure Santa will be good to him and get him one. :-)
We also played lots of guitar hero 3 quite addicting, but hey a family that plays together stays together. It says that in the Play station 3 magazine even! :-P
Hope to get through this busy week and weekend Ok and then I am taking my Christmas break!